Reminder: Aspen ELC releases Kindergarten and Boost at 12:35 pm the whole first week of school. Busses will run and lunch will be served.

Come to Open House this Thursday, August 18 from 3:30 pm - 5:00 pm at the school and meet your new teachers.

Parents: If you have not already done so, please fill out this google form for incoming Kindergarten/Kinder Boost student's with your student's end of day information. This must be done before school starts. Any changes will need to made through calling the school directly. Do not submit the form again.
https://forms.gle/6c9j6JBwfQr6NJiq9


Aspen's Attendance notification system is experiencing a glitch and is contacting all parents in the district. We are working quickly to fix this problem. We apologize for the inconvenience.

With the construction surrounding the Bus Garage, drop off and pick up at the transfer area is no longer an option for parents. Students who live in the vicinity will be able to safely walk to the transfer area.

Student/Parent School Bus Roundup will be Wednesday, Aug. 17 from 12:00 pm to 1:00 pm at the Bus Garage (701 E Sunset Dr.) Due to construction please enter from the south gate off of Spruce St.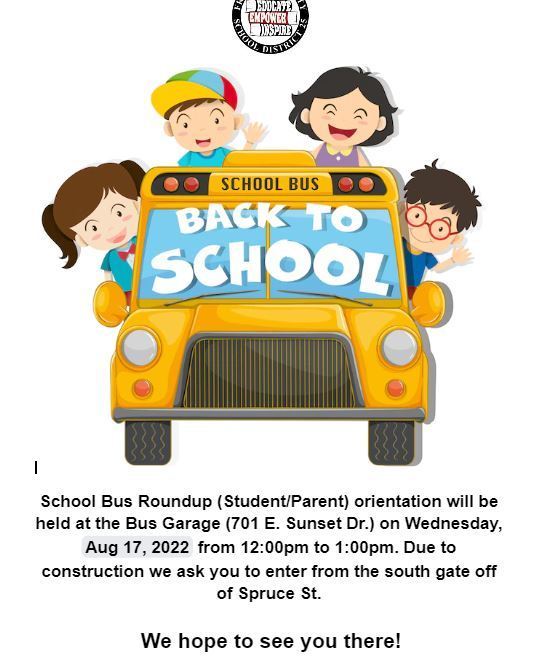 Reminder: Early Release today at 12:35. Lunch will be served and busses will run. Happy Summer Break!

Last day of school Friday, May 27 with Early Release at 12:35 pm. Lunch will be served and busses will run. Have a great summer!

Kindergarten Graduation tonight at RHS starting at 5:30 pm. Doors open at 5:00. This is only for Red and Blue Hall Kindergarten classes.

Are you ready for Kindergarten Graduation? AELC STAFF CAN'T WAIT! Here is all the information you need to know for your children as they graduate from Kindergarten to First Grade. Boost and PreK students will get their turn NEXT YEAR.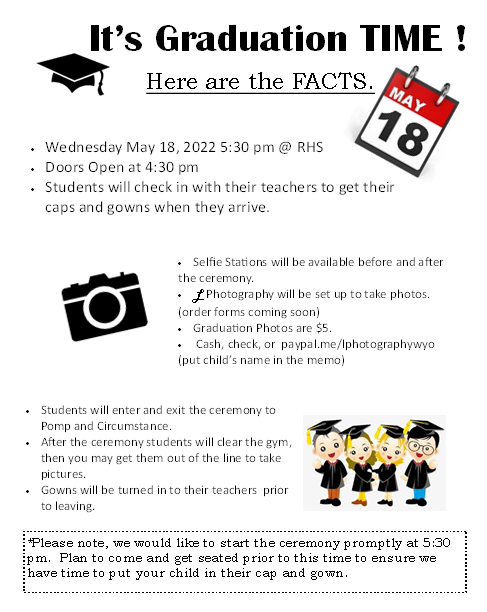 Parents please claim lost glasses in our front office.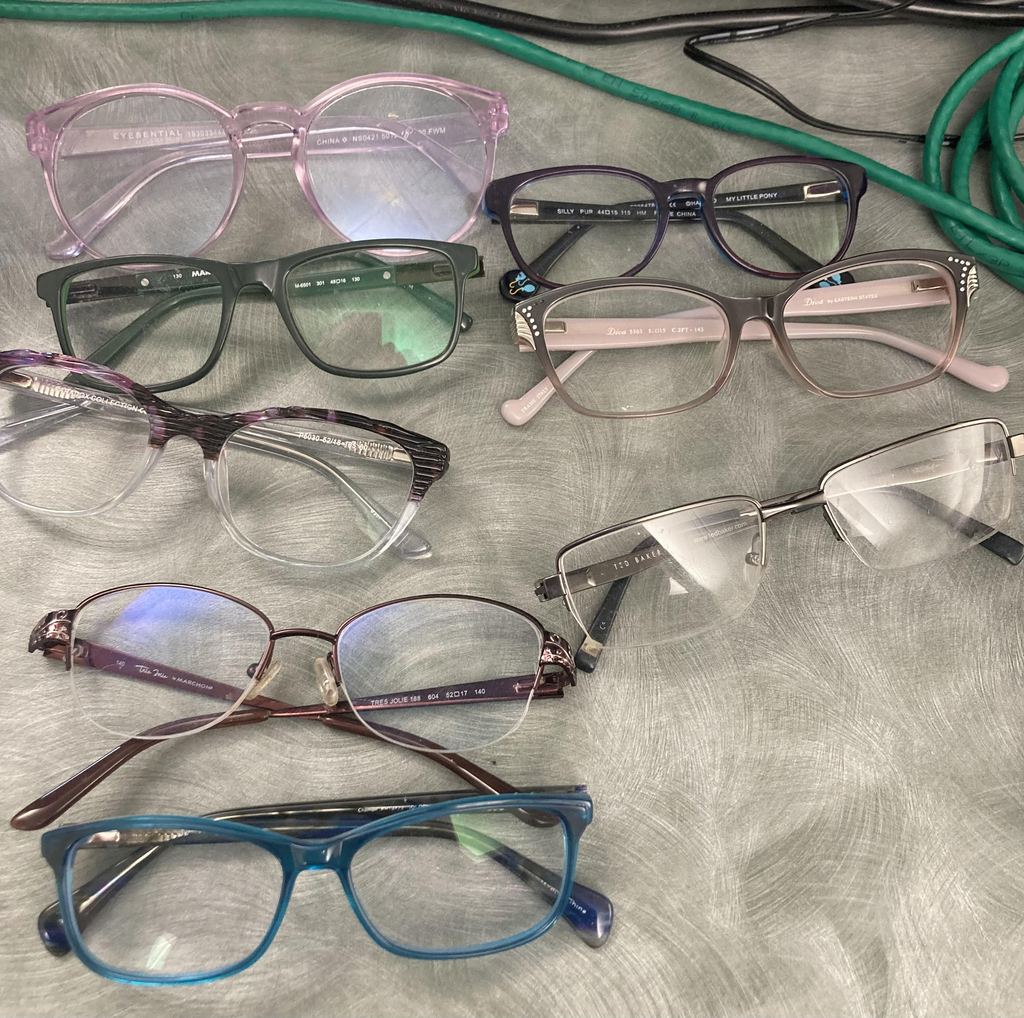 It's Cap Decorating Night! Outgoing Kindergarten Families come decorate your cap for Graduation tonight with AELC staff! Join us from 4:00-6:00 pm. Students unable to attend will make their caps with school staff on Friday. Can't Wait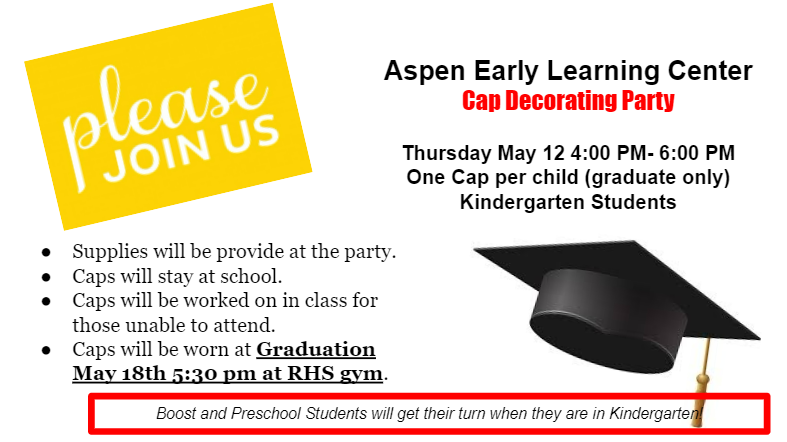 AELC THANKS all the families, staff and volunteers who made last nights Title I Family Literacy Night a success. AELC hosted 272 attendees who worked together on fun literacy activities to learn and grow our kindergarteners! Thank you for always partnering with us!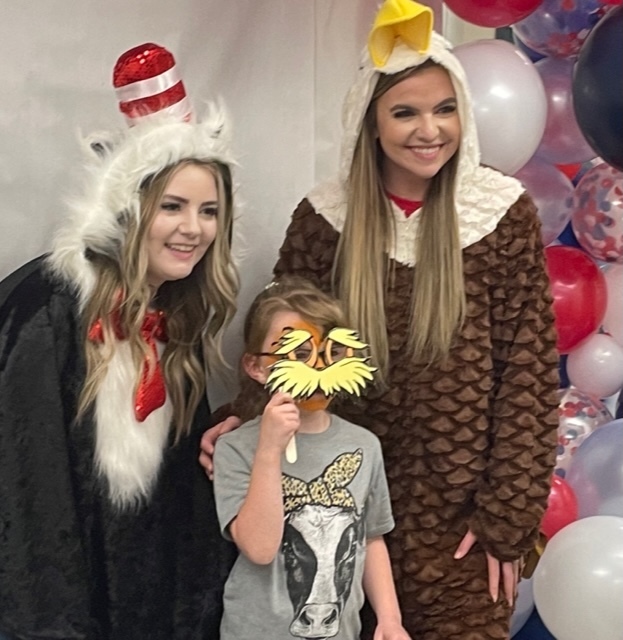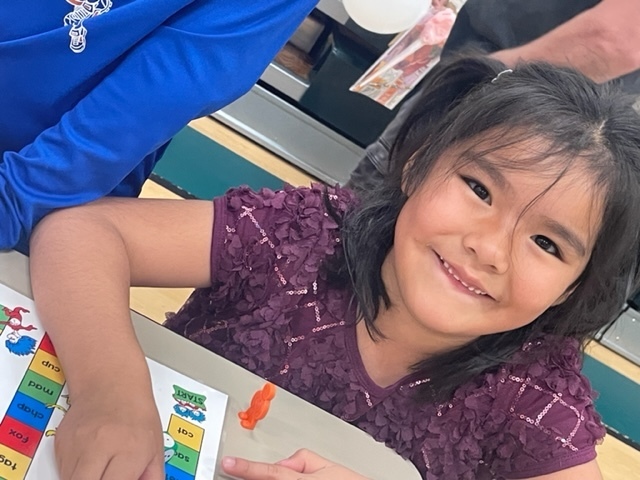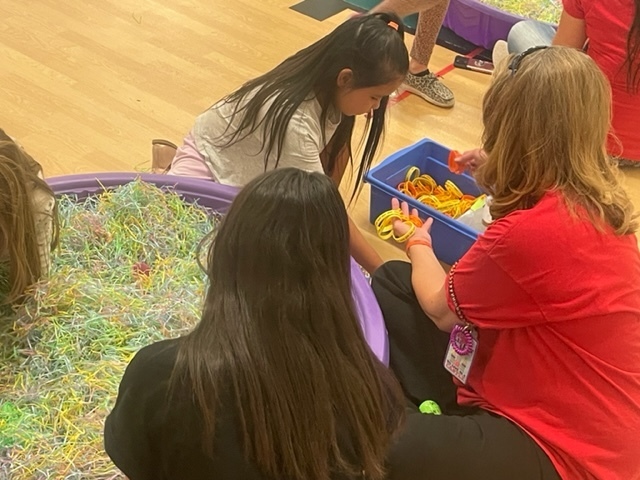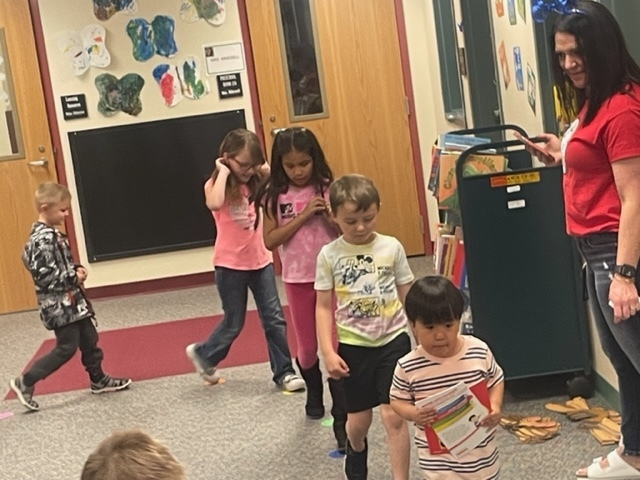 Kindergarten Students and Families it is GRADUATION TIME! All our outgoing kindergarten parents and families join us on Thursday May 12 to decorate your graduation Cap. (Boost & PreK families you will get your turn NEXT YEAR!)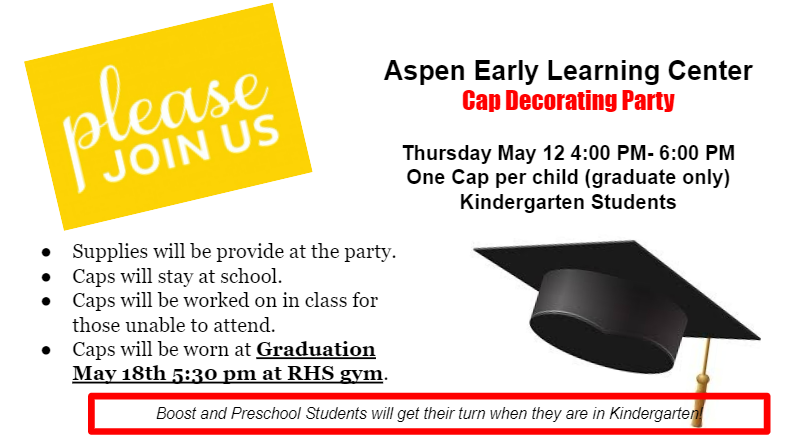 Join us tonight for the AELC Title I Dr. Seuss Literacy Night from 5:30-7:00 pm. Enjoy activities with your child that practice their literacy skills and learn fun ways to incorporate literacy into games and experiences you can do at home. Don't forget to stop by and grab some treats while you enjoy this learning time together as a family.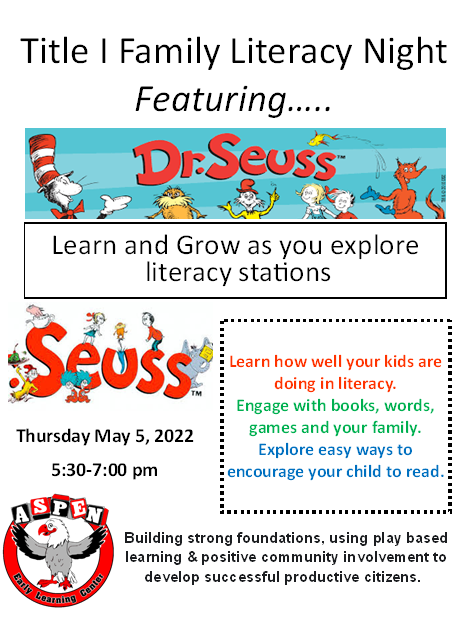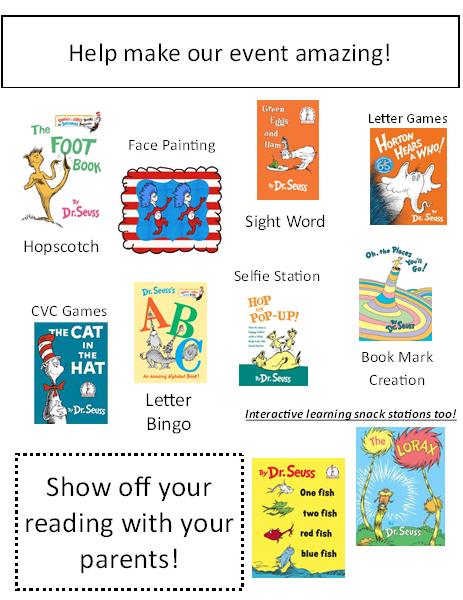 AELC is celebrating ALL of our STAFF this week with daily treat. Reach out to a staff member and give them a shoutout on all their hard work. Special recognition today goes to our STAFF CHOICES for Certified Staff of the Year: Capella Morris; Classified Staff of the Year: Jessica Jevne; and our AELC TEAM of the Year: Special Education Team consisting of Shelli Chance, Bret Hoover, Dana Osborne, Jennifer Jones, Robin Wilcox, Blair Downey, Erika Harker, and Isaac DeVries. Additional Recognition goes to Misti Motisi for her 15 years of service, Kristin Wilson for her 15 years of service, Danielle Gray for her 5 years of service, and Blair Downey for her 5 years of service in FCSD #25.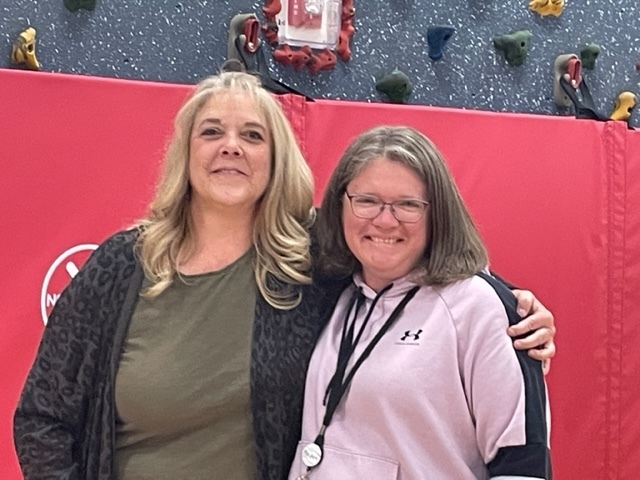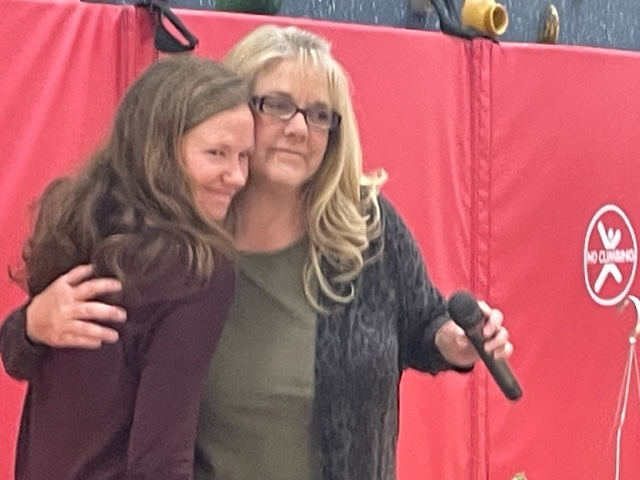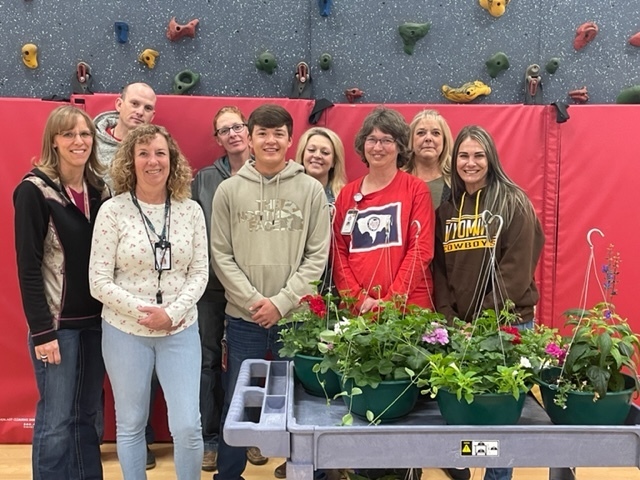 Parents: Due to the construction on Sunset Blvd. there will no longer be parent pick up at the bus transfer after school for the rest of the school year.